EX16 Progress Updates
Feb 9th 2020
Please see our latest update below.
We will be removing any live customers from this mailing list automatically following this update – if you would like to continue following the project, please just let us know and we will add your email back to the list.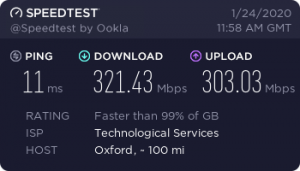 Here's a quick (literally) speedtest just outside Skilgate. I appreciate that is unfair for those a little further away, but we are making progress towards you all!
Currently the network is live with a couple of properties still to connect this coming week, plus the leg over towards Keens (we'll be in touch separately with a plan as it will be July before the ground around you dries out!)
Thanks to Pete & Beccie Govier we've completed most of the section past Surridge and are ready to plough across to Post Lane & Skilgate Village, but its raining again, so it will be another week before we can get that done.

We've had some very successful meetings in the wider area, with both Clatworthy and Chipstable Parish Councils arranging well attended meetings and generating a lot of interest, thank you! We'll be arranging a meeting in Huish Champflower soon.

We've also had lots of positive provisional arrangements for the fibre duct routes and will now be working on the detail for these sections both for the areas approved for vouchers and those still pending.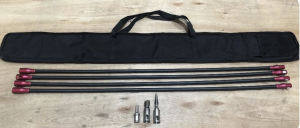 We've added a few extra tools to the arsonal as well, particularly the Drop Drill which you can see in action here
This allows us to drill underneath patios and pathways with minimal disturbance. It works very well, unless your builder dumped a bucket of concrete under your path. We even managed to do a staged drill in clay 80m plus to connect one service, with small potholes in between each run. We then pull back the microduct ready to connect and blow the fibre.
I'm sure many of you lost power on Friday 7th around 3pm, interestingly the mobile phone mast at dulverton also went down at the same time.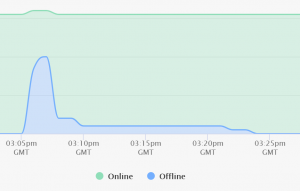 Our monitoring shows a good indication of who had a UPS, who had a short power cut and the longer tail of people either tripped out or without power for longer.
The good news is our battery backup and DC system acted seamlessly and the network remained online and running at full capacity.
If you are thinking about using VoIP phones remember you will need a battery backup at your property as well. These are a few options to help if you are looking, prices range from £30-£66
You'll need to power the Nokia ONT, the Router and the VoIP adapter plus your phone if it is cordless.

 SPS Soho+
Although you will need this cable as well – cable
Although you will need to use a Y Cable as well as Power Over Ethernet, so better for technical folk.
There are lots of other good UPS's you don't need a lot of capacity, unless you want to run for days on batteries.
Here are the specific area updates:

Skilgate North
We'll be in touch individually to start agreeing locations for each drop fibre onto the house and start installing these prior to the main fibre arriving. This will help us connect you as soon as the remaining parts can be dug – we have 1 boggy part to do plus the road crossings that will be the main time drivers.
We've an outline agreement with the Church to cross their land.

Skilgate Village Planning for these routes has been delayed due to our diaries, but this will start in earnest this week. Again, we'll also start digging the fibre drops in these areas as soon as we have certainty on the routes.

Upton & Huish Champflower
The approval process at DCMS drags on now entering the 4th calander month, but we are in commercial assurance which is the final stage. Hopefully this will be wrapped up and we can start the voucher application process for those who have signed up.Interest continues to grow in the area, but please ensure your neighbours know about the project.
The design for this area will be based on multiple routes – some of which will be built sooner than others, based on land access and demand in that area. Overall this will involve 60km of duct so is a major undertaking.
We'll add the route mapping to the website in the coming days for this area.

Clatworthy
We've received enough interest to submit the funding application for this area, and hope that as it is a smaller project compared to Huish, that the approval takes slightly less time. We still think it will be 3 months, but can live in hope!!

Chipstable, Raddington and Waterrow
Again we've received an excellent response from the meeting last week, and we'll know start developing plans for the area. We need to decide if applying for 1 large project or multiple small projects will be easier for us and DCMS to get approved. Our current thinking is to apply for 2 small projects that fit neatly into the Upton Huish coverage area, which cover Raddington and then Chipstable, with a larger project covering Waterrow and any other parts.

Hopefully this will mean that the smaller projects can be approved and incorporated straight into our build activity to the south of Huish, and then lead into the Waterow area once that is approved.

Other Areas
We've been asked a few times about other areas, if the area joins our current plans then it is definitely a target area and should be a viable project. We've had some interest from the beyond the far side of Wiveliscombe but I don't think this will be on our radar under the current voucher scheme which ends in March 2021. Whether the scheme gets extended or not, and whether CDS have issued new contracts before then will determine our next phases.
Any queries or comments please get in touch, otherwise we'll be contacting you about next steps in the near future.