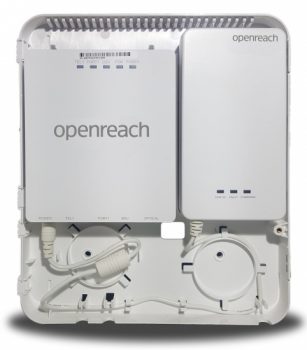 Most areas with FTTC coverage have the option to request a bespoke Full Fibre build at their own expense.
Openreach Fibre on Demand is delivered via FTTP and GPON but is built just to the local Distribution Point (DP).
Fibre on Demand is only available as a fixed 300Mbps Download / 30Mbps Upload service.
After the initial 12 month term, the infrastructure reverts to native FTTP and any standard Fibre Broadband package can be ordered as required.
Fibre on Demand installations will require a new Fibre Splitter to be installed together with a Fibre Path back to the nearest Aggregation Node, this distance and complexity will determine the one-off installation charge, for example Aerial or Underground, Road Closures, New Ducts.
To determine the installation cost a surveyor must visit the site and produce a plan. Openreach charge £250 +VAT for the survey, and we require the full payment when proceeding with any Fibre on Demand quotation. (Openreach do offer a free desktop assessment but we do not offer this due to inaccurate records).
Typical Installation Charges are between £1000 & £20,000 excluding VAT
Government Grants are available towards the Installation Costs & Discounts are available for additional properties connected at the same Distribution Point.
Once the surveyor has completed their report and installation charge is confirmed, you have 30 days in which to proceed or cancel the order. Proceeding includes a £250 deduction for the survey cost, but cancelling does not refund the survey fee.
If on completing the survey Openreach are not able to proceed for any reason, the survey fee is refundable in full.
 We would recommend you explore our Hybrid Services as a faster more reliable alternative especially our Broadband Boost to increase upload speeds on any FTTP broadband line.
Managed network management appliance and app
7 hour Openreach Fault Repair
Unlimited usage
No Connection Charge (New Line Installation excluded)
12month Contract as standard (1 month option available)
Speeds vary according to line length and condition
Average Download 300Mbps

Average Upload 28Mbps
No Router included. Openreach ONT installed as standard and cannot be replaced with 3rd Party Hardware
Available in Market B only.
Contact us to obtain your personal speed estimate and availability
Fibre Broadband on Demand
134.00
per month ex VAT
£160.80 per month inc VAT