EX16 Progress Updates
Dec 26th 2019
Merry Christmas & firstly apologies for the long gap between recent updates.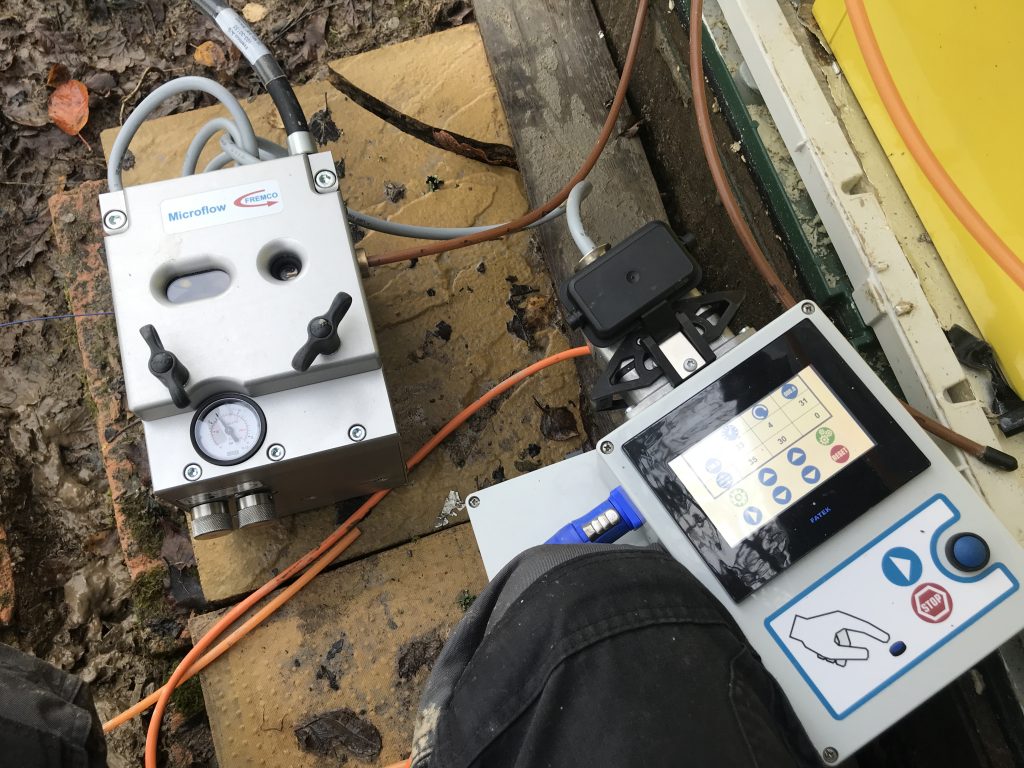 It has been a difficult month, with very wet working conditions, many challenges and some very long hours but on Christmas Eve we finally got the first connections live and working! 
Tested on customer connection (with the 500Mbps package)
https://www.speedtest.net/result/8884188630
The biggest delay was taking delivery of the Nokia ONT units; the devices which we install in each property and convert the fibre connection into something that will connect to a WiFi Router. These have had a circular route around the EU, having been shipped to a customer in france and then lost in transit on the return to the UK… but they finally arrived with us on the 17th and we could then test & fine tune the Nokia Head End configuration, which also took longer than expected.
We've installed blown fibre upto the Somerset Border and despite the weather have spliced all of the main chambers so the fibres are now continuous from the border back to the cabinet near shillingford. We've also installed most of the fibre drops and are working through the internal works as quickly as we can.
On Monday 30th we'll be connecting up the next batch of customers and hopefully as the forecast is dry, get the remaining splices completed. But as soon as we reach each of you, we can provide live working service!
Sorry we are a month behind our previous plans, but we are going as fast as possible, and all the major hurdles are behind us now!
Vouchers
Once we have connected you to a live service we will be applying for your voucher funding, this will require some activity on your part:1) Responding to the confirmation email in a timely manner – similar to the application validation email you received.2) Some properties may require a site visit from DCMS staff to validate, they will contact you directly to arrange this and again we appreciate your assistance in facilitating these visits – we only receive the funding when these steps are complete.
Managed WiFi Service
As a thank you for your patience we are giving every customer 1 years free Managed WiFi Service (normally £5 per month). After your 1st 12 months service you are able to cancel this or add this option  to your monthly bill if you wish to continue using the service.
Individual Area Updates
Shillingford / Loyton / Claypits Areas
These areas should all be live on the network before the end of the year. We'll try to reach you while in the area to complete installation and also email you with your final order packs for signature.
One note of caution: Do not cancel any existing services until you have a live service, as to transfer (Port) your existing number to a VoIP service, you must still pay for the old service. We'll be sending more information out about the Porting process in due course.
Timewell
The properties around Timewell are ready to be plugged in, and we'll try to get some of these completed on the 30th and 31st if we can so you start the New Year with Fibre.
Timewell Hill  & Brockhole
We will email you separately to arrange installation of the drops to reach you. The fibre is installed ready in the chambers near you and we'll aim to reach you either on the 2nd /3rd Jan or the w/c 6th January.
Leigh Barton & Shute
The fibre is on site ready to be blown from the top of the hill down to the Devon Border. This will take a couple of days and we'll aim to complete this w/c 6th Jan depending on the weather. We then need to meet to discuss the final drops to your properties and dig these in, at which time you can go live.
Skilgate Area
We are still planning the highways section to reach the triangle area, and looking at options for the southern area of the village.
As soon as we have a weather window we will start work on the northern route, we'll keep you posted on this as it progresses.
We've also added the properties surrounding Skilgate to the Upton & Huish project so we will be able to access voucher funding for you if the Northern Skilgate route exhausts the available voucher funding.
Upton & Huish Champflower Areas
The project is still in approval process with DCMS, and has passed to the commercial stage of approval. hopefully once the Gigabit Voucher team at DCMS are back in January, this process will progress faster, at which point we will start applying for your vouchers and working on the detailed route planning.
We will likely arrange another public meeting at Huish once the project is approved to share our plans with the wider residents who may have missed previous meetings.
Other Areas
We have a meeting arranged in Waterrow on the 5th February at 7.30pm to look at further expansion. Anyone from existing areas would also be welcome to attend if they would like further information on the scheme.
We have less than 10 remaining vouchers available for the original project, including Skilgate. Once these are exhausted, anyone wanting a connection this will be possible but on commercial terms with a connection build charge, activation charge and router fee.
So we would urge anyone who would like a free connection to sign up as soon as possible:
Link to signing up www.technological.co.uk/ex16
Have a great holiday week and wishing you all a very Happy New Year!