EX16 Progress Updates
Sept 14th 2019
We've made excellent progress on the build to date, making the most of the recent weather.
We've currently signed up a number of residents along the current construction path, but please feel free to share this update with any neighbours in the area, who might be interested in being included. Rural Gigabit Vouchers are currently still available, ensuring you each have no connection charge for the service.
Interest in Skilgate and beyond continues to grow, and this weeks announcement cancelling the Connecting Devon & Somerset contracts with Gigaclear is expected to fuel demand further.
We're especially grateful for the co-operation and assistance from landowners to date, working together for to get the wider community and themselves connected to Ultrafast Full Fibre broadband. Thank you!
Construction
The team from Wedgewood Groundworks started on site this week, and have completed the mainline duct installation from Pixies Laughter to near Morebath Manor, nearly 2km of duct. We expect to complete the next sections at either end this week, before working up Timewell Hill to cover the longer distance sections.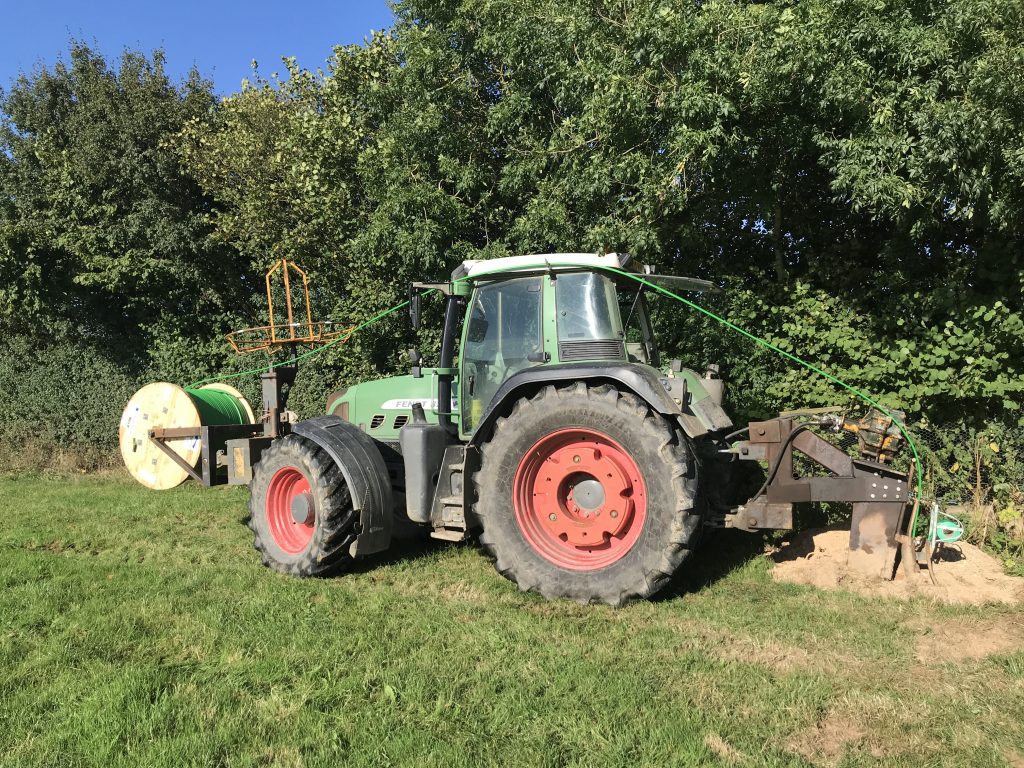 After Mole Plough

Finished Ground 24Hrs

Minimal Impact
Our team has also been completing the first microduct installations to properties along the route, and we'll be in touch with the next homes we need to arrange to visit.
Live Date
The backhaul connection to London is in progress, this comes to Bampton, then via existing underground Fibre to Huxley Cross, from there Openreach need to install Overhead fibre cables across 7 existing poles before going via new underground Duct which we are installing to our "Meet Me" Cabinet. This work requires a temporary traffic lights at Huxley Cross which is being scheduled at present.
Our planned live date is still around November 2019.
Information
For those of you interested, once the ducts are installed, we then use an Air Blown Fibre system to install high fibre count cables into the ducts, terminating at underground chambers near to each cluster of properties.
At these chambers we then use smaller 7mm underground ducts to each property. These do not need to be buried so deep especially in & around garden edges.
Within these smaller ducts we install a pre-terminated fibre system again using air blowing techniques. There is a video demonstration below.