Building you a new Full Fibre Network

Now Live!!
Regular Updates published on our progress
We'd hoped to have a community meeting soon, but the current situation with Social Distancing means this is not possible and is unlikely to be able to take place any time soon.
We've explored the option of running teleconference calls to answer questions (obviously we cant run a virtual meeting online as your broadband isnt good enough!). Instead we have published a list of FAQ which you can find here. We'll also be calling properties individually and emailing you, to answer any specific questions.
To further complicate matters the Government Land Registry Computers are down for Map searches so we will need your local knowledge to identify land owners.
Live Service
 The network is now live which critically means that as we reach individual properties and complete their drop they will be able to go live immediately. Despite increases in usage due to people being confined to home we are not seeing any capacity issues across our networks.
We are currently building a brand new Full Fibre Optic Broadband Network in your area. Initially this include the following Post Codes:
Live Now
EX16 9BX

EX16 9AS
EX16 9AR
EX16 9AN
EX16 9AW
EX16 9BZ
EX16 9BY
TA4 2DW
TA4 2DN
TA4 2DH
TA4 2DQ
TA4 2DL
TA4 2DE
TA4 2DJ
About to Start Construction – Hopefully in next few months depending on the weather
EX16 9AF
Expansion Areas (Now Approved with DCMS)
Build Started Spring 2020
TA42BX
TA42BY
TA42BZ
TA42DA
TA42DB
TA42DD
TA42DE
TA42EA
TA42EB
TA42ED
TA42EE
TA42EF
TA42EG
TA42EL
TA42EN
TA42EW
TA42EX
TA42EY
TA42EZ
TA42HA
TA42HB
TA42HD
TA42HE
TA42HF
TA42HG
TA42HH
TA42HJ
TA42HP
TA42HQ
TA42HU
TA42HW
TA42HX
TA42HY
TA42HZ
TA42JA
TA42JB
TA42JD
TA42JF
TA42JG
TA42JH
TA42JQ
TA42QE
TA42QG
TA42QH
TA42QL
Approved by DCMS for Gigabit Funding, in planning (sign up today)
TA42EH
TA42EJ
TA42EP
TA42EQ
TA42SH
TA42SJ
TA42SN
TA42SQ
TA42SL
TA230LP
TA230LN
TA230LW
TA42HN
TA42EN
We are currently planning coverage for Waterow, Raddington Chipstable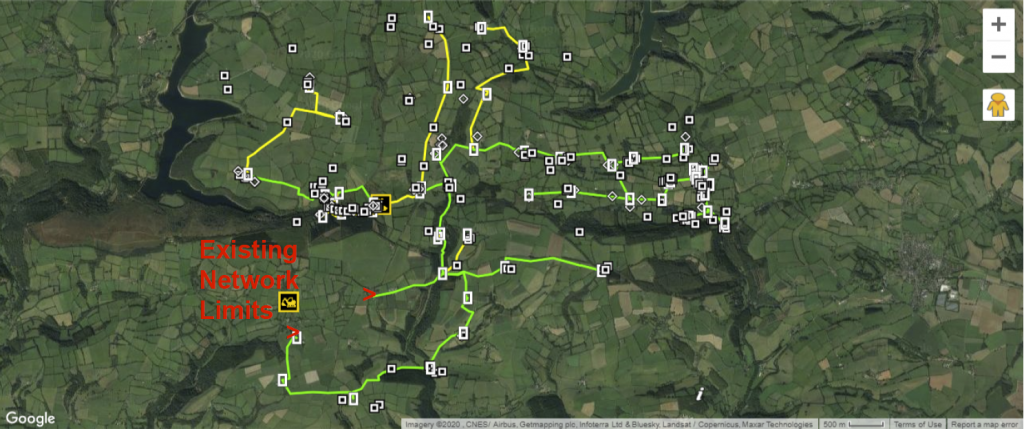 But we can & will expand in future. If you are not on this list but are in the nearby area, please get in touch below.
We are due to start the Upton & Huish areas in the next few weeks.
We are based in Exeter and have years of experience connecting rural areas to faster broadband, we also live locally and are known to many local residents already. The network is being built underground using local agricultural groundwork contractors who understand your land and how to lay fibre optic cabling.
This network is being financed using Rural Gigabit Connectivity Vouchers from the Government, plus our own investment but can only be built with your support and engagement.  You can find more information about the Rural Gigabit Vouchers by clicking the logo below. 
To expand the network we require demand from the communities.
Benefits of Full Fibre
The proposed network will included Full Fibre Optic cabling directly to your property, with no Openreach or BT Line required. With Full Fibre we can offer packages such as these below examples.
With Fibre Optic, the speed or signal doesn't decrease with distance, you get what you pay for 24 hours a day / 7 days a week.
Once connected you can replace your copper landline with a Voice service over Fibre – often saving you considerable value on your monthly costs.
To find out more please complete the form below and we will contact you and arrange to meet you.
Other Options
What other options are available?
Currently Connecting Devon & Somerset have no plans in the area and while Gigaclear had been planning on building around Skilgate, Upton and Waterrow, but this contract has been cancelled after falling several years behind schedule.
The government proposed a Universal Service Obligation guaranteeing a 10Mbps basic broadband service from March 2020, but this will be delivered using 4G Wireless from EE and is not comparable to a true Full Fibre connection.
We can only build this network using the Gigabit Voucher Scheme and can only build the area once, so for the scheme to progress we will require pre-order contracts, but we will build and have connections live within 90 days subject to the weather, we only receive funding from the Government when your service is live.
We offer the following service options, and following feedback we have introduced a Home Office Option.
If a Business Voucher is allocated, either a Home or Business grade connection must be ordered for 12 months.
Home Broadband includes a 4 day Service Response Level
Business Broadband includes a Next Day Service Response, apart from Home Office contracts which are a best effort basis.
Business traffic is prioritised over the network with a lower contention rate, Home connections are a shared service.
We are currently looking at a Voice Only option using Fibre to provide a VoIP service for those not wanting broadband, this will not be supported by the Voucher scheme unless a Basic Broadband connection is taken for 12 months, then switched to Fibre Voice Only.
Using a Rural Gigabit Voucher
With a Rural Gigabit Voucher, there is no connection charge, build charge or activation charge. Which means we will build the fibre directly to your premises and connect you with a WiFi Router. All you pay is the 12 Monthly service charges for your selected tariff.
Free Connection
Free Activation
Free Build Charge
Without a Rural Gigabit Voucher
If you are not eligible for a voucher or the scheme has ended or funding has expired we can still connect you on a commercial basis. Generally this is based on the following charges:
Connection Charge 
Fitting ONT and Router internally
 £250 ex VAT
Activation Charge 
Applies to both New Connections and Reconnections
 £100 ex VAT
Build Charge 
Bespoke to Property for installation of the final duct and fibre from our nearest chamber to your property. This is generally £15-20 per meter ex VAT. This is only charged on the first connection to cover the one offbuild costs.
Average £600-900 ex VAT Residential Connections
Average £2500-4000 ex VAT Business Connections
The monthly service charges are the same with or without a voucher.
Basic Broadband
Home Package
40 / 40
Mbps
£40 inc VAT per month
Basic Home Office
Business Broadband
40 / 40
Mbps
£50 ex VAT per month
Basic for Work
Business Broadband
50 / 50
Mbps
£85 ex VAT per month
Home 100
Home Broadband
100 / 50
Mbps
£48 inc VAT per month
Fibre Voice
Broadband for VOIP
2 / 2
Mbps
£15 inc VAT per month
Business 100
Business Broadband
100 / 100
Mbps
£95 ex VAT per month
Home 300
Home Broadband
300 / 150
Mbps
£65 ex VAT per month
Business 100
Business Broadband
100 / 100
Mbps
£95 ex VAT per month
Business 300
Business Broadband
300 / 300
Mbps
£160 ex VAT per month
Ultrafast
Home Broadband
300 / 300
Mbps
£75 inc VAT per month
Business 100
Business Broadband
100 / 100
Mbps
£95 ex VAT per month
Ultrafast for work
Business Broadband
500 / 500
Mbps
£275 ex VAT per month