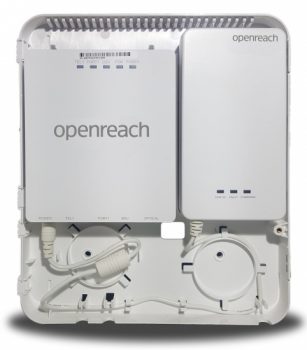 Full Fibre from Openreach (excluding Ethernet Circuits) is delivered via FTTP using a technology called GPON.
This is a shared fibre service with a passive splitter generally serving 32 properties. Each property can select from a range of speed profiles and unlike Copper Broadband, the selected speed is delivered regardless of distance.
All FTTP GPON services from Openreach are asymmetric with greater Download than Upload speeds.
FTTP installations will require a new Fibre cable to be installed to the property when first ordered. This will terminate at the ONT as shown above (without the cover) either with or without a Battery Backup facility.
The ONT connects to your Router via Ethernet.
 We would recommend you explore our Hybrid Services as a faster more reliable alternative especially our Broadband Boost to increase upload speeds on any FTTP broadband line.
We offer 6 variants of Fibre Broadband, depending on the maximum speed required.
Managed network management appliance and app
7 hour Openreach Fault Repair
Unlimited usage
No Connection Charge (New Line Installation excluded)
12month Contract as standard (1 month option available)
Speeds vary according to line length and condition
Fibre 80 /20
Average Download 54Mbps

Average Upload 16.2Mbps
Fibre 300 / 50
Average Download 300Mbps

Average Upload 47Mbps
No Router included. Openreach ONT installed as standard and cannot be replaced with 3rd Party Hardware
Available in Markets A & B except 500Mbps and 1Gbps services which are Market B only
Contact us to obtain your personal speed estimate and availability
73.00
per month ex VAT
£87.60 per month inc VAT
93.00
per month ex VAT
£111.60 per month inc VAT
98.00
per month ex VAT
£117.60 per month inc VAT
110.00
per month ex VAT
£132.00 per month inc VAT
191.00
per month ex VAT
£229.20 per month inc VAT
Fibre Broadband 1000 / 200
250.00
per month ex VAT
£300.00 per month inc VAT